The further you travel into the core of your being, what you'll find is love. The more love you can give to yourself, the more freedom and expansion you get to experience, and the more personal power you have at your disposal. The way to get there is by examining the relationship you have to yourself and then shifting out of self-rejection (which is a learned program from fear) into a deep sense of love for yourself (which is your natural state). 
In this episode of the Uncover YOU podcast, I tie together the journey that we've taken over the past three episodes: starting with examining how self mastery is a process of aligning with integrity, to exploring how living in integrity is a way of loving yourself, and now concluding with how loving yourself happens from integrity when you dissolve self-rejection.
I share the surprising moment when I noticed a loving inner voice. I also talk about who is the sender and the receiver in loving yourself, and that one of the things in the way is often that we haven't practiced receiving it.
Before we dive into the episode, here's the link to the Workshop: 4 keys to loving yourself that I mention in the episode. You get this $89 workshop for $37 if you join before August 8!
Listen to episode 23 here:
A summary of what we talk about in this episode:
Many parts of your being have had a tremendous amount of negative attention directed onto them: judgment, expectations, never being good enough, self-hatred, disappointment.
When you fully step into love, you step out of suffering (from anxiety, anger, insecurity, self-criticism, etc). But not only that. You feel free, inspired. You know what you want. 
Loving yourself is like coming home. You're aligning with a force greater than you. Directing that force towards yourself and the places that have been in lack of it will change your experience at the core, and life will never be the same.
Three ways to activate a deep sense of love for yourself are to direct positive attention onto the parts you've been rejecting, to explore your state of self-love by dropping into your body, and to get in touch with what you want.
My journey from self-rejection to self-love
From a very young age, I was deep into self-judgment and had quite high expectations of what I should do to be accepted, to be loved. It translated into getting really good grades at school, and then being good at my job. But it also of course came with the judge's opinion that I could always be doing more; that I needed to achieve x, y, z before I could be happy or feel good.
As I started doing the Self Mastery work and began peeling back the deeper and deeper layers of the interconnected web of beliefs, I started seeing so much more of the fear and the rejection that had been running inside of my mind.  
What I found inside was a deep feeling of lack: "You're not there yet, you have to work harder. You have to get this done too. And don't forget about that other thing that you also need to do."
My self-worth was tied to my accomplishments.
That's when I wondered: "Could I still love myself, even if I'm not doing or accomplishing anything? Could I love myself when I'm walking around in a bathrobe and having a very unproductive day?"
I could see that this was challenging to parts of my mind, and that's when it dawned on me: I'm not really in charge of this relationship with myself.
Even if I said "Yes I'm going to accept and love myself, even if I'm not doing anything at all," there was resistance, and there was tension, and there were parts that had strong objections to that, and impulses to go do more things instead.
Fast forward to one year later: I was on a nice drive by myself when all of a sudden I was caught off guard by my mind speaking lovingly to me. It made me wonder: "If I'm going to have a narrative voice talking to me all day long whether I want it to or not, why not have it be a very loving and supportive voice?"
So how did I come to hear that voice from love on that drive? And how did I then grow it into the powerful state of self-love that it is today?
Activating practices to align with the loving force within you
Once you've been taking apart the learned self-rejection for a while, you'll likely get to a point where you feel a little lost because you're no longer living inside the house of your old fear-based program of beliefs. As you experience yourself outside of those layers of conditioning, those old stories and beliefs, you'll start identifying yourself as something else – call it consciousness, or loving awareness, or God, or presence, or whatever else you like. 
This is the perfect time to build your new foundation from a place of love. The deeper you go, the more self-rejection you'll dissolve and the more love you'll uncover. It's already there inside of you. It's always been there, waiting for you to return back home – it was just covered over by the program of fear. 
Here are three practices that will enable you to start activating and reconnecting with your deep sense of love: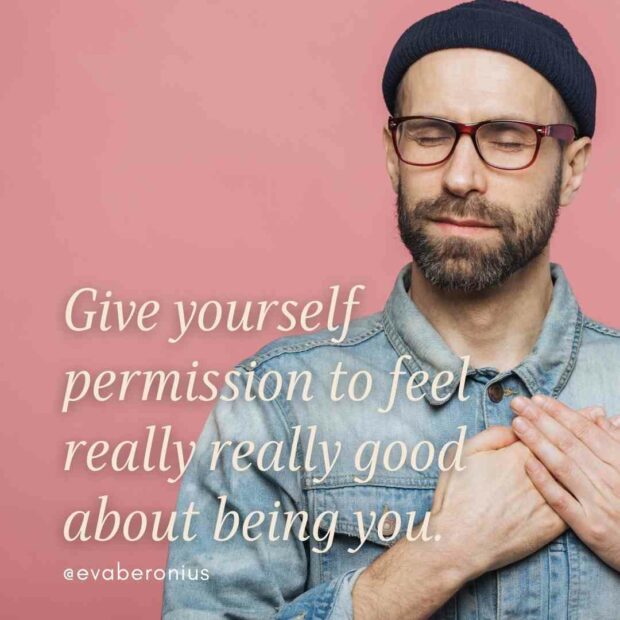 Directing positive attention


When you start directing positive attention onto the parts that had before only been given negative attention, it feeds you, it replenishes you.  It's like taking a plant that's been sitting in a closet and giving it water, sunlight, a bigger pot AND fertilizer. Cells in your body and your soul start feeling alive again.

You're loving yourself into life. This loving attention awakens you to a new experience of yourself and of life because the parts of you that were starved for love are being welcomed with compassion and can now thrive. 
Exploring the loving state underneath your self-rejection programs

Another way is to explore the loving state that's available by sinking down into the body through feeling, sensing, and opening your heart. Even if in the beginning it's just for a limited amount of time when you sit down for meditation or when you consciously feel into your heart and be still in your being. The more you practice it, the more it will start trickling in deeper to all aspects of your experience of life. The further you drop in, the more you feel the absence of self-rejection and the presence of acceptance and love.
Getting in touch with what you want


The third aspect of self-love is to get in touch with and honor what you want. You as this human, you as a soul, you as an animal with desires; what do these aspects of you want

Getting in touch with what you want, using it as a new compass to navigate life, and actually giving yourself what you want (rather than simply dismissing it) becomes a way of loving yourself, a way of honoring this unique expression of life that you've been born into.
Let the fun begin
In a way, it's really exciting to recognize when you're in a state of self-rejection, because it means your whole life can get so much better. Your experience of life, the feeling of waking up in the morning, how you feel when you relate to others – all of that can improve so much from here. 
So I invite you to ask yourself: How good can it get? 
How good do you want it to get?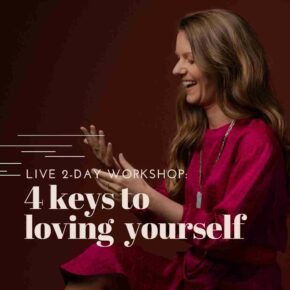 Come join me for my two-day workshop 4 keys to self-love where we'll look at unconscious beliefs of self-rejection and how you can give yourself full permission to love yourself.

Read more here
Subscribe to the Uncover YOU podcast
podcast
self mastery
self-love
uncover you