One of the common programs of the mind is to tell us that we're failing, doing it wrong. Doing the self mastery work is no different. The mind seems to have a surprising amount of opinions on how we should be practicing and what results should look like. When you've been identified with the mind you will react and either believe what it's saying or start defending yourself against it, with a different part of the mind.
In this episode, we'll talk about how you're exactly where you need to be and with a simple mindset shift can change into seeing that the obstacles showing up on your journey, is actually the way to the change you want.
Here's a summary of what I cover in the episode:
A common conversation with a client:
Me: So how has it been since our last session? What has been showing up and what have you noticed?
Client: I've had good and bad days. Some days have been really calm and I've been able to shift out of the anxiety, but other days I haven't been able to and the anxiety has completely taken over.
This is a program in your mind talking. A program that's used to labeling and measuring progress by things NOT showing up. 
It's a bit like saying "I want to be an ice-hockey player!" and then when practice starts and you need to learn new skills and get some equipment you're saying "What are these things in the way?? I don't want to go pick out ice-skates, learn how to put them on tightly, learn to shoot with the stick and get slammed into the wall by other players! I just want to be an ice-hockey player…"
We can call it a princess character. It wants us to just BE there, at the favored result, right now. It's not recognizing that the things "in the way" IS the way. That you're getting exactly what you're asking for. That being an ice hockey player means being slammed by other players and tightening your ice skates. Just like being happy or free from your old patterns means you'll go through the tunnel and learn to be with the emotions that used to be suppressed because you're not believing the mind's stories about them anymore.
So the mind has an unrealistic way of looking at your progress and where you should be, but there's also something deeper and larger going on. Something that's been going on most of your life.
It's your conscious mind repressing your unconscious mind. It's the protector parts of your mind saying "This shouldn't be here, this is bad. It's going to get us in trouble" about reactions and emotions from your unconscious mind.
Sometimes that protector has the voice of a Judge "This is here again, you haven't changed one bit. All the work you're doing is useless. You'll never get better."
Sometimes it's the Hero/Fixer speaking: "Just breath deep and shift into gratitude and this will go away."
Sometimes it's a Distractor: "You're REALLY busy at work right now, open your computer and get some things done"
Let's look at an example. Let's say you've been experiencing anxiety and worry throughout your life and you want to understand and shift that through the self mastery work. You've taken the leap to address it and you have the motivation to work through whatever it takes.
You learn new skills and start practicing them, but your mind has stepped in with an idea of how progress and even the journey of shifting it look like. Usually, that image, that idea, is pretty one-dimensional: the anxiety doesn't show up anymore and you feel dandy. The end.
Again, this is your mind being in charge of the work and it has just taken a new approach of having your problem surgically removed: inner growth work! Personal transformation! (This is usually why the mind is so motivated to start this work in the beginning. "Finally we'll have a way of fixing you!")
But that doesn't mean that there's not a deeper longing, from the heart, from the soul, from integrity, to learn and expand and shift your old patterns. The mind is just tagging along, and when you see this you've already started shifting that old mindset.
The mindset shift that will move you along faster
I'll try to give you a more accurate image of what progress looks like:
When you set the intent to shift an old structure like the anxiety I described, everything that is somehow connected with that structure will show up to be seen and heard. So when you start practicing your self mastery skills of being present with your emotions and shifting out of identifying with the perspectives of the mind, you will likely experience:
More of the same reaction that has been repressed, ie more anxiety
Emotions that might have been hidden underneath the top layer bubbling up (anger, hurt for example)
Louder protector parts screaming at you to do something about it
Other seemingly unrelated things in your external world or in your physical body that just happens to appear, go wrong, or hurt 
The things showing up are exactly what needs to be seen. You see, you're rocking the boat of a structure that has been put into place to keep you safe. Things will be stirred up.
My invitation to you is to set your intent, for example, to shift the old pattern of anxiety and worry, take the action in learning the skills needed and then practice seeing what shows up as just the thing that needs to be seen and heard. 
Because maybe the biggest part in any personal transformation work worth its name is to shift out of the identification with the mind's way of repressing your unconscious mind. When you do you can create space for BOTH the unconscious fears and patterns and the reaction from the mind about it. You are none of them.
What an inventory of your obstacles/opportunities can look like
The past month we've been practicing working with intent in the Beyond the Mind group in the Self Mastery Community, and we practice exactly this mindset shift. We find an intent that excites us, dream it into life and then sit back to observe the things showing up. Things that need to be addressed and helped to let go for the desired expansion to happen.
Here's a post from one of the members in that group with things she's been observing showing up since setting her intent: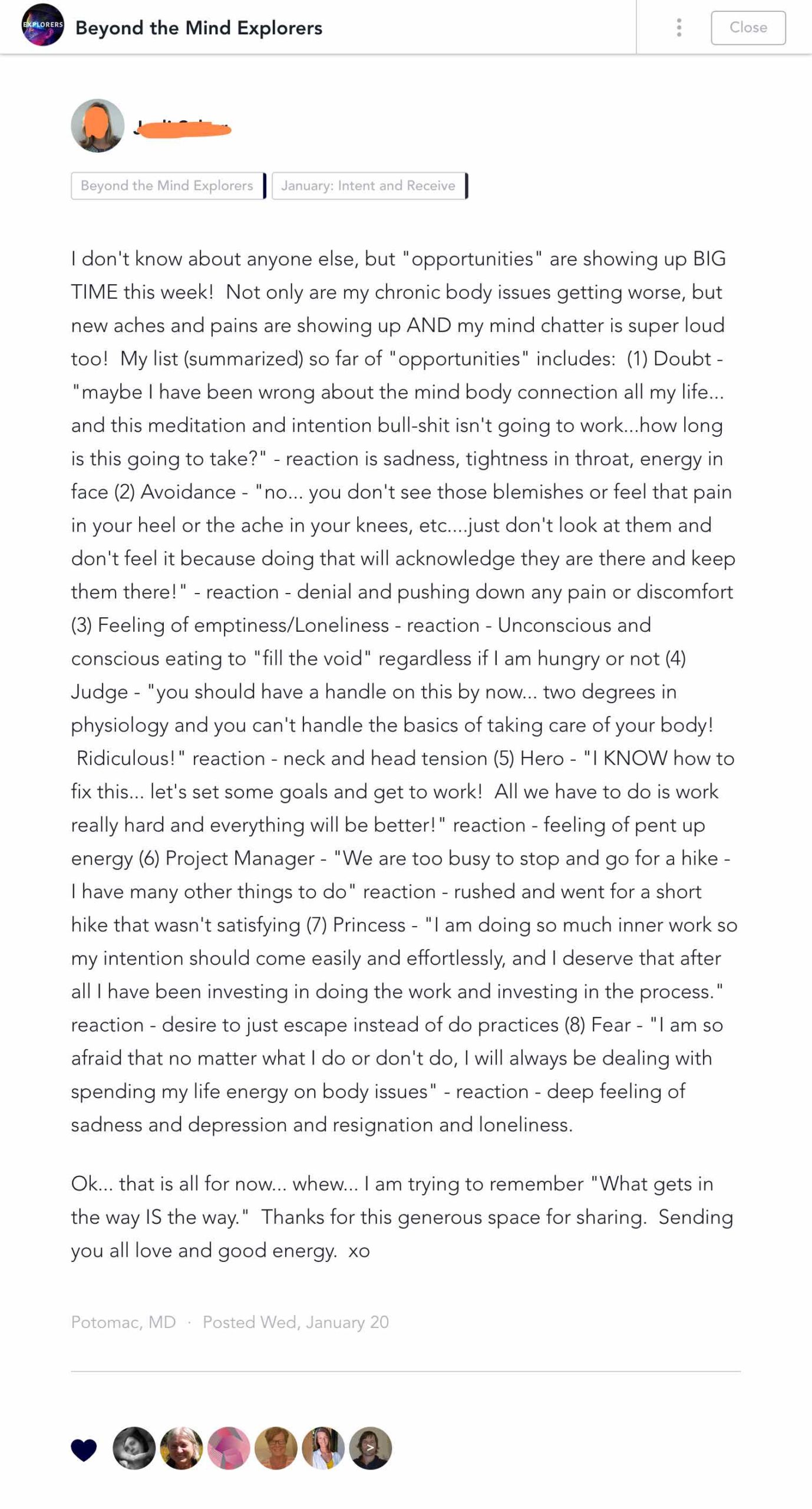 All of this showing up for her is part of a big interconnected web, and now she gets to see it. The mind is showing its hand. You've opened the chess game with your first move by setting your intent. Now you can sit back and watch the show. 
Can you recognize how what you usually would react to as obstacles are actually what needs to be addressed for your desired inner shift to happen? My invitation to you is to start celebrating when things that seem to be in the way show up, as clues, or desserts handled to you on a silver platter.
Because when you do, you stop rejecting the process and start to move into trust. Trusting that what you need is being given to you, trust that life has your back. And this will accelerate the shifts you're looking for.
Subscribe to the Uncover YOU podcast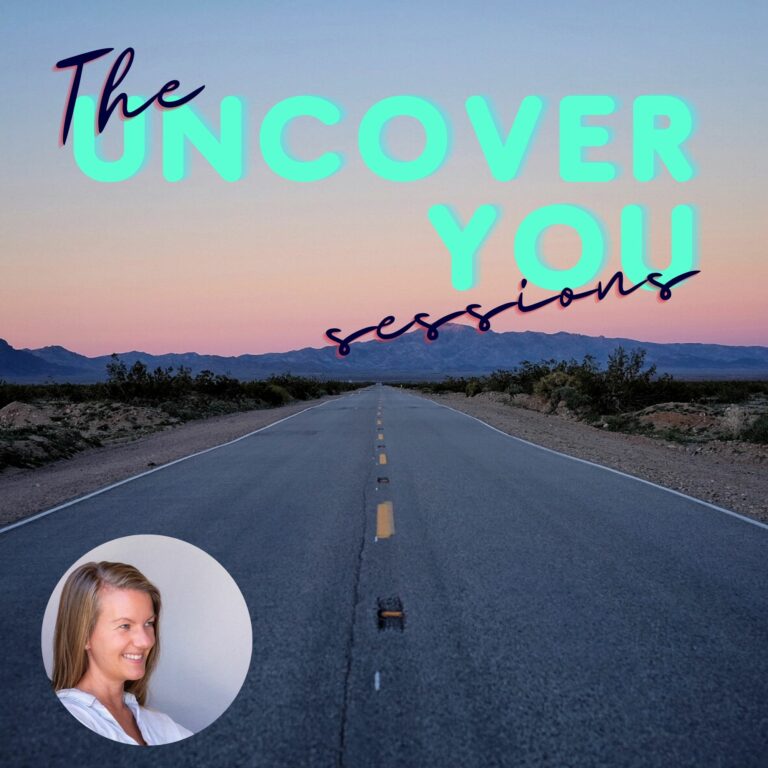 I'm recording the episodes for the Uncover YOU podcast live in our community each Tuesday and you're welcome to join me and bring your questions.

1. Create an account in the Self Mastery Community (if you don't already have one)
2. RSVP for the upcoming event and get the join link by clicking here
podcast
self mastery