If the aim for this journey from analyzing to feeling is to operate more from integrity, then let's look at what that might be and feel like. When you've been run by a program in your mind it's hard to know what trusting your body and what it's saying might look like. We usually don't even feel we know who we are when we start to take apart the beliefs that have been the foundation for our identity and our opinions.
In this episode, I paint the picture of a trusting relationship with your body and with feeling, and what superpowers that will bring you.
Here's a summary of what I cover in the episode:
When we're run by the program of our mind, it's like we've lived zoomed in on one speck of the universe. As we start to look around we realize there's more to us than just our mind. We're not just changing and stepping out of old programs, we're stepping out of the identification with the mind itself.
When you identify as the Observer, as the BEING inhabiting this body WITH a mind and emotions more than the ACTIVITY happening in that mind and body, then you have a whole new way of exploring your whole being.
What you before thought you needed to figure out and make sure you got right, you might realize can be navigated by other parts of you. What you want, what you desire, and what feels right – it all lives as a felt sense in the body. Letting your soul, your spirit, AND your animal speak to you through the body without constantly overriding it with what the mind thinks is right for us, is the first step in living and navigating from integrity. It's an important skill in becoming the Artist of your life and teaches you powerful Dreaming skills
The problem is that we haven't spent a lot of time listening to our body, and if we have we've often learned to override what the body is telling us with the opinions of the thinking mind.
Building that trust with your body again might take some time but when you do start to listen and take action on what it's telling you, you will build a new relationship with it and find a whole new way of navigating the world.
There's no need to figure out what you want and what you "should" do anymore. The mind is not really good at that anyway.
Three simple steps in starting building trust with your body:
1. Listen to what your body is telling you
When making a decision or planning the day, what does the body has to say about it. Listen and feel in your body.
A YES might feel like:
Tingling, excitement, warmth, a rush of energy, an openness, expansion, a leaning into what's wanted, relaxation.
A NO might feel like:
Numbness, cold, tension, contraction, closing down, repelling away from, silence.
If you've been avoiding your emotions and ruling with your mind, it might take time to actually start getting any answers. Don't give up. You directing your attention there and stating the question with the intent of feeling into your body is already forming new neural pathways.
2. Observe the objections from the mind
If you do get an answer from the body about this or that, pay close attention to what your mind is doing next. Is it rejecting it? Diminishing it? Making a "better" proposal? Saying "Sure, but maybe later…"? These are your clues and your understanding to how your mind has been relating to your body before.
3. Take action
Start small. Don't try and navigate all your life-changing decisions at once this way. Start with what you want for breakfast, whether you want to stay in or go for a walk, or what item on your work list you start with today. This will build the skill over time. But it's important to take some action and actually follow your body's wanting to re-build the relationship with it. When you do it will start speaking louder and it will get easier to discern
The belief of Struggle
While you're doing this exploration you might realize that you have been carrying a belief with deeper roots: That getting what you want is a struggle. That getting what you want needs to be earned as a reward for hard work. And that therefore, also your personal growth process should be hard and strenuous. 
I'm not saying that your transformational journey will turn into a charmful tale as you let go of that belief, because you will still be going into the underworld, meeting your shadow and your fears, and feel most yucky while the old idea of you is falling apart. Again and again in different iterations. But instead of trying to figure out the next step and desperately trying to look for the next thing and believe the stories from the mind of what you SHOULD be doing, you can instead trust that the next step will appear when it's time.
What I'm trying to say is: your mind might be using the Self Mastery work as a way to keep you stuck in your head. It might be telling you all the things you have to do and should be practicing to get to where you want to go. But the Dreamer and the Artist is not ruled by the program of the mind, and as long as you believe those stories you are kept in the mind's web.
It's very possible to make the transition from analyzing to feeling, from the mind into your heart. The mind's stories about how scary and impossible it is are…just stories.
This was the third episode on the theme of dropping into our bodies and start feeling instead of analyzing. On Thursday, February 25th I'm hosting a Q&A where we'll discuss episodes 7-9 and get to explore more juicy nuances of this topic. Join the Zoom call and bring your questions and insights!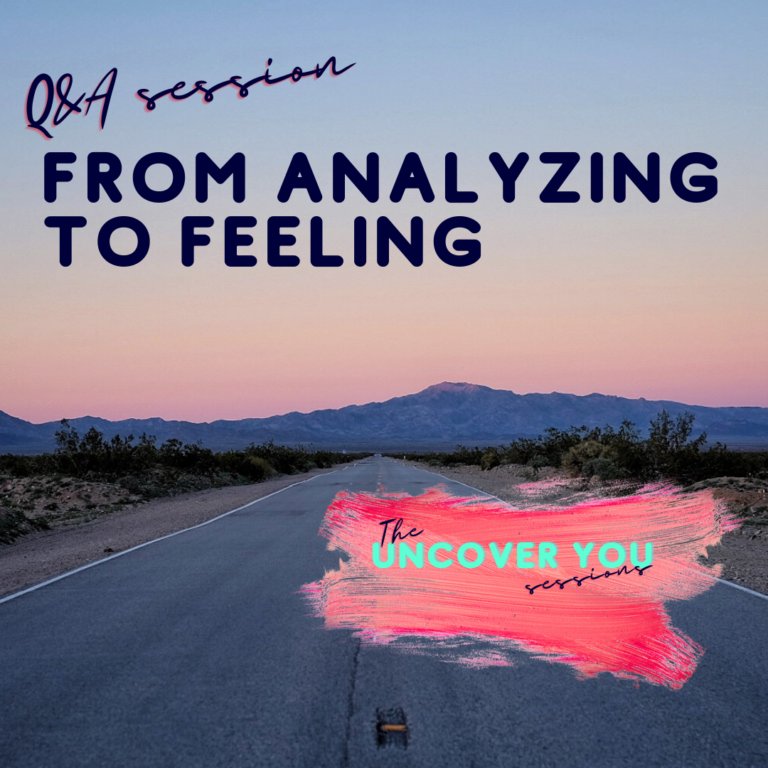 Join me for the free Emotions Q&A session on February 25. We'll discuss the podcast episodes 7-9, I'll answer questions and we get to dive fully in and explore some juicy nuances.

1. Create an account in the Self Mastery Community (if you don't already have one)
2. RSVP for the upcoming event and get the join link by clicking here
Subscribe to the Uncover YOU podcast
body
meditation
podcast
self mastery