Do an internet search for self-love or self-compassion, and you get a lot of articles that list the 10 or 6 best practices you can do to become more loving towards yourself.
While the intent of searching for self-love is good and might be what some are looking for, there will never be complete satisfaction in this kind of advice for someone really looking to move towards a deeper understanding.
The main reason this kind of advice won't give you what your soul is longing for:
They are all written from the mind's perspective.
That self-love is something we need to practice and get to.
That it's over there and we're over here.
Give me the to-do list and I'll follow it.
Give me the right way to tackle this problem and fix myself.
Truth is, self-love is not something you acquire. It's always been there and it never left. Hidden under the identification with the thoughts in your mind, it's been waiting for you to shed the layers and return back home. The greatest love story ever told. Yours.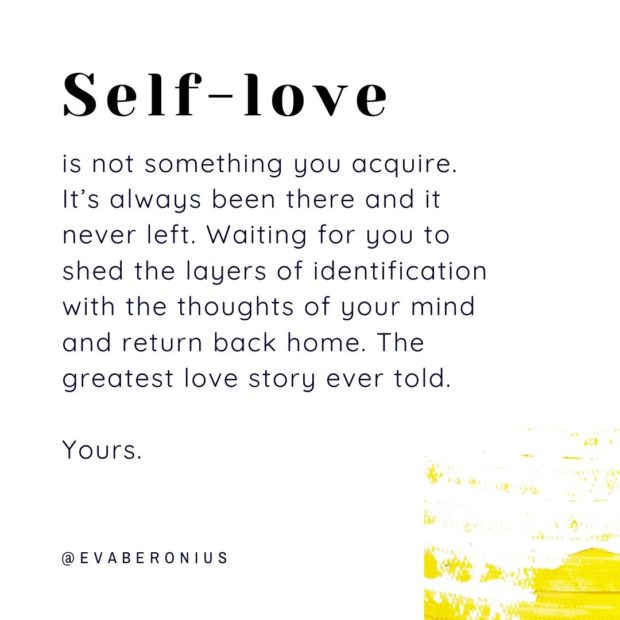 As you might have noticed by now, I'm not much for adding layers to the programming of the mind. Instead, I approach the work of becoming more self-aware and experience deep happiness and a peaceful mind by removing stuff in the way of these natural states. By saying they are natural I'm not saying they are normal. Very few people have taken the time to truly inquire into the biggest assumption of all and done the work to shift out of the attachment to their thinking.
Figuring It Out Within Yourself
The normal is to identify with your body, your thoughts, your emotions, your habits, and your reactions, which often will put you in tension, anxiety, depression, self-doubt, and insecurity because of the conflicts in your internal world. If you believe you are the voices telling you that you are not good enough and that you completely screwed that thing up, then how do you defend yourself against yourself?
This is a confusing and often painful state.
Some people might have a more "unified" set of beliefs, a common goal, and agreement on what's good and bad, what's success and failure that their belief system more or less agrees on.
"A good life is making this amount of money, raising a family, and retire in a house by the sea." Or, "A good life is traveling from country to country, experience new adventures, and practice gratitude."
In this case, their internal world is working more efficiently together and there is less friction. It's a life with less suffering and confusion and the guidelines seem clear. There is still identification with the body and the mind though, and they might find a longing for something…more.
Sometimes, we do not start off with that love. We struggle with the creation of the illusion of unworthiness
Many of us instead carry conflicting beliefs that cause tension and emotional conundrum.
"I'm ugly and no-one will ever love me" and ALSO  "I'm more attractive than him, he should be happy to have me as his girlfriend"
"I should be working on my project" and ALSO  "I should take care of myself, not push myself so hard and go have an ice cream instead"
This might seem strange, but it makes sense when you know how a belief is created. A belief is put into place with a clear thought or nervous system experience paired with strong, impactful emotion. This produces the outcome that the belief needs to come alive: us putting our FAITH in it. Us believing it, even with a small part of us. So a seemingly random event in your past can create one belief, and then another seemingly random event can create a different, sometimes opposing one.
It can get pretty complex too. From one belief and the emotions, it creates we often create new belief structures to protect ourselves from the pain from the first belief.
Here are some examples:
Belief: I'm not loved
(The subconscious: Ouch, that hurts. Let's try and avoid that feeling again…)
Solution: I'm really good at soccer, let's do more of that and get praise!
Belief from early experience: It's not safe being sad
(The subconscious: Danger, something bad might happen if I'm sad. Let's avoid that…)
Solution: "I'm a really happy person, nothing sticks!"
New life experiences: I'm too superficial, and not in touch with my emotions.
Belief: My girlfriend will leave me if I'm not able to connect with her.
(The subconscious: I don't know how to solve this. If I open up it means danger, if I stay closed it means danger. Let's withdraw and bring in feelings of hopelessness, depression, numbness.)
Solution: Distractions like alcohol, buying new things, scrolling on the phone, and watching tv-series.
Fear is an effective way of putting beliefs into place. The stakes to not believe that something bad might happen seems high – it's better to be safe than sorry. We react from survival mode and with our response to the thought and emotion putting a fear-based belief into place.
Can you start to see how we form beliefs that are not based in love and compassion, but instead becomes a backwards way of protecting ourselves from pain, because parts of us are scared?
The common seldom questioned assumption when it comes to self-love
Whether you're living in a more harmonic belief system or one with conflicting beliefs we often share one common core belief:
I am my mind and my thoughts.
You might argue this from a rational point of view and have other theories or had other experiences, but you are most likely still embodying this belief and living by it. Your everyday activities and how you relate to your thinking are based on the belief that you ARE what you hear in your head. This belief exists in your unconscious and you won't be able to change it with more theory or thinking. Instead, you need to start observing your own relationship with your mind.
A lot of people can agree that they are not one specific thought. "Oh, I'm not that self-critical thought, that makes sense. I can change my thoughts and this specific one is not what defines me."
This is true, but that's not what I'm talking about here. I mean that you are not your thinking, and you're not your mind, the machine who does the thinking. It's software installed on your hardware. It's the instrument panel on the airplane. It's one part of your being. But it's not you.
To realize that you are not ANY of your thoughts or your thinking is the real trick here.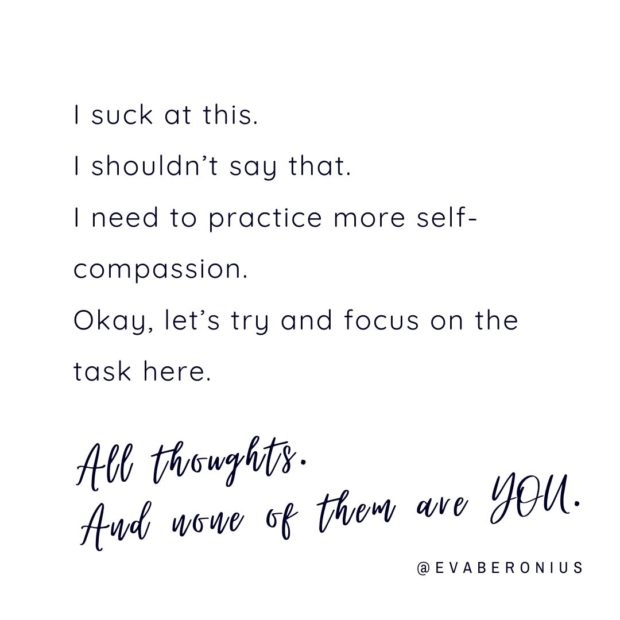 Many of us have the ability to step out of one or two layers but then the next thought that shows up seems very familiar or kind or brave and there we go… identified with it. Believing it's ME talking.
This doesn't mean that the thoughts you have are all lies or that you shouldn't think anything anymore. I'm talking about the relationship to your thinking. If you are you, and your thinking is your thinking, you could change the link between the two, couldn't you? How you see it, how you relate to it.
When you start observing your thinking (like the brave adventurers in the Self Mastery Course learn how to do), you naturally create a gap between it and yourself. This is a journey of learning skills of acceptance, how to direct your attention consciously, and how to be with and release emotions.
Coming back to self-love
So what does this have to do with self-love?
When you start realizing that you are not your thinking, but someone aware of experiences like thinking, physical sensations, and emotions, you might get curious about that observer itself. That's when your self-awareness starts to grow big time.
That observer, that awareness, that I AM is the true you.
And when you finally come home to visit for the first time in a long time you learn that this YOU is made of love.
There has never been any self-doubt, criticism, insecurity, or depression.
YOU have never even been touched by pain, hurt, trauma, injustice, and struggle.
YOU are the space where all this has taken place.
When you get to know this YOU some more, and you ask it to shine through you more and more then there will naturally be self-love. More than the old idea of you could ever imagine.
This YOU loves all parts of you, even the angry or judgmental thoughts that still might show up. Because it knows where they came from. It sees the good they were trying to do.
Operating more and more from this YOU is aligning you with a greater force, a greater frequency.
Your thoughts, your actions, your reaction will follow.
What is self-love?
All of a sudden you're smack in the middle of the flow of life without believing the thoughts about needing a plan or control or protection to be safe. You KNOW you are already. That you can not be. You're having the direct experience of yourself as yourself. This is true self-love. This is home.
From here feeling into what you want is effortless. Navigating between pleasure and enjoyment is easy. Loving yourself with all that you are and everyone else with what they got, comes naturally. It's nothing you need to learn, it's your nature, it's what you are made of.
You most likely need some skills to get out of the lies you've built. We weren't taught those in school. Skills like how to direct the superpower of your attention, release old stored emotions, and dissolve structures of unconscious beliefs with the help of your heart. Skills that you will have excellent use of for the rest of your life.
But loving yourself deeply and unconditionally is already who you are and always have been.
(If you want to connect more deeply with the true YOU, my Self Mastery Meditation Course: Beyond the Mind is a journey just for that. You can read more about it here. Enrollment is opening in August again.)
self judgments
self-compassion
self-love